Generous Joe!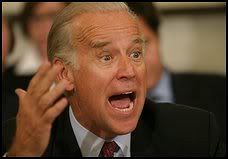 PRESIDENTIAL CHARITY DONATIONS-- BIDEN GAVE A WHOPPING AVERAGE OF.... $369 A YEAR
Tax records show that Democratic vice presidential candidate Joe Biden and his wife gave an average of $369 a year to charity during the past decade.
Presidential nominee Barack Obama's campaign released10 years' worth of tax returns for Biden, the senator from Delaware, and his wife Jill, a community college instructor. The Bidens reported earning $319,853 last year, including $71,000 in royalties for his memoir, "Promises to Keep: On Life and Politics".
The Bidens reported giving $995 in charitable donations last year - about 0.3% of their income and the highest amount in the past decade. The low was $120 in 1999, about 0.1% of yearly income.
Joe Biden redefines the word
TITHE