Lou Dobbs unloads on the Catholic Church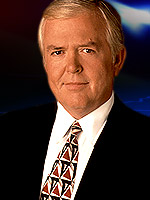 The Roman Catholic Church once again putting itself in the center of a debate over amnesty for illegal aliens. Church leaders in California during Ash Wednesday services called for Catholics to commit themselves to quote, "immigration reform".

In Los Angeles, Cardinal Roger Mahoney told parishioners, quote, "They are innocence impacted by an unjust system that has failed and will continue to fail them and our society until true comprehensive reform is passed by Congress and the president."

Another California bishop called for his parishioners to dedicate a day of fasting during Lent to immigration reform.

Ah, the good Cardinal Mahoney again. A pious man, I'm sure. But his heart rests with those who violate American borders and laws, and not with law-abiding citizens of this great nation, which, by the way, permits him the freedom to put his interests in filling his pews with good Catholics who are here illegally ahead the laws of this land and our national interest.

It's interesting that the good cardinal and his fellow enthusiast for the illegals of Latin American, bishop Jamie Hosoto (ph), say that Lent is the appropriate time for their parishioners of Los Angeles to fill out cards and send them to Congress calling for immigration reform.

Now to me, that seems just a little bit outside the spirit of the Church and Lent. It seems, actually, a bit secular,in fact. Lent is a time, after all, for Catholics to sacrifice. But these two leaders in southern California apparently think sacrifice should be born by all American citizens of every and no faith.

The good cardinal and bishop seem to be enthusiastic about the idea of all of us giving up our national sovereignty for Lent. How's that for sacrifice?

Dobbs is right! These guys are on the wrong side of the fence. This is a social justice issue. If Mahoney really cared about the new members of his flock he'd be calling for a crack down on US employers that are exploiting the illegals.